'See you later.' Dixon began edging past to the doorway.
'Aren't you going to stay for the P. Racine Fricker?'
'Shan't be long, Professor. I just think I'll…'
Kingsley Amis, Lucky Jim (1954)
Jack Van Zandt gives a personal tribute to the composer Peter Racine Fricker
It must have been quite a thrill for the 34-year-old Peter Racine Fricker to discover his name in Kingsley Amis's first novel, which would go on to win the Somerset Maugham Award in 1955. Looking back from today, it seems all the more remarkable that the young composer should have become something of a cultural signpost, given that ten years before that he was just another soldier serving in the Royal Air Force in far away India, and ten years later he would quietly disappear from Britain altogether and soon be practically forgotten in his native country.
However, in 1954, if you were following the latest news in British postwar music, the name Fricker was right up there with his older colleagues and friends Michael Tippett and Benjamin Britten. His music was everywhere, with frequent live performances and broadcasts by some of the greatest orchestras, conductors and performers of the time. However, by the time Fricker became my first composition teacher at the University of California Santa Barbara in 1974, he had been living in the California "Riviera" for ten years and his past life as the latest thing in British music was but a distant memory, though from time to time he would continue to receive the occasional commission and performance in the UK until his death in 1990.
Born in Ealing, London, on 5 September 1920, Fricker's middle name came from his ancestor, the great French playwright Jean Racine (1639-1699). While attending St. Paul's School he began to study the organ and became friends with fellow student and future leading British horn player Dennis Brain (1921-1957), with whom he would collaborate after the War. He entered the Royal College of Music in 1937, studying counterpoint and composition with R. O. Morris and organ with Ernest Bullock. The Second World War brought an end to his studies and he spent 1941-1946 in the RAF, mostly in India.
After the War, Fricker returned to London, attending Morley College where he met and took up composition study with Mátyás Seiber, the Hungarian-born British composer who had been a student of Kodaly. This proved to be a good match and Fricker credited his teacher with making him into a successful composer, and he would also later incorporate Seiber's teaching style into his own. Indeed, Fricker's music reflected the work of his much admired teacher, and Seiber's influence can easily be heard by comparing, say, Fricker's oratorio, Vision of Judgement, with Seiber's cantata, Ulysses. Fricker's music also incorporated ideas from the leading Hungarian composers associated with Seiber: Bartok and Kodaly. In addition, the music of Schoenberg and the Second Viennese School interested the young composer, and he was a great admirer of Hindemith.
After a year of study with Seiber, Fricker would begin to produce a stream of award-winning and frequently performed major compositions, making him, within a few years, a leading composer of his generation. The first of these, the Wind Quintet, Op. 5, which was taken up by his friend Dennis Brain's ensemble, won the 1947 Clements Prize. This was followed by his First String Quartet, dedicated to Seiber, premiered by the Amadeus Quartet in 1948 and selected for the Brussels ISCM Festival that year, and the 1948-49 Symphony No. 1, Op. 9, which won the Koussevitzky Prize. He won many more prizes and had performances in Britain and Europe through the 1950s, and attended Darmstadt in 1955 where he had a piece performed.
Another major influence on Fricker in the postwar years was Michael Tippett, then the Director of Music at Morley College, and who Fricker would succeed in that role in 1953. The connection with Morley College would give Fricker the opportunity to produce many works for faculty performers and ensembles at the college, a type of relationship and way of working that he would take with him to Santa Barbara years later. He would also take up a second teaching position at the Royal College of Music in 1955, juggling both jobs while fulfilling commissions for new works and also composing scores for films and radio productions. His busy lifestyle continued until 1964 when, out of the blue, he was invited to take up a one-year visiting professorship at the University of California Santa Barbara (UCSB).
He liked what he found in Santa Barbara: a first-class music school with extensive facilities, and a faculty of excellent performers. It was like a dream come true. He got to spend his time composing and teaching in one location, and a gorgeous one at that. He found he liked the life there so much that when he was offered a permanent position after his first year, he jumped at it. He became a headline faculty member who attracted students from all over the state, and in 1970 would take up the chairmanship of the department, a position that he held during my 1974-1976 period of study with him there. He would remake the composition course to include a skills-heavy emphasis as well as analytical study of contemporary music. In addition, he brought several important visiting lecturers to our department when I was there, including Ernst Krenek, Elliott Carter, Charles Rosen (who performed and analyzed all of Schoenberg's piano works), guitarist Julian Bream, and Hans Moldenhauer, Webern's biographer.
The 1970s music department at UCSB was one of the largest in the system. There was also a separate program for a few specially selected student composers in the associated College of Creative Studies (CCS), for which Fricker was the gatekeeper and which had a separate special faculty that included Thea Musgrave. I can't tell you how excited I was to arrive in Santa Barbara as a transfer student from San Francisco State University, meet Fricker and Musgrave, and after a few months be invited by Fricker to join the CCS group, where the emphasis was on composing and the workshop study of contemporary music and techniques in a very small class environment, and where the students had much more freedom than in the regular music department classes. Plus, there was an exotic element to having two British teachers in California that connected to the new European music I had been listening to.
Dr. Fricker, as we students called him, was an excellent teacher who was dedicated to helping each and every one of his students in whatever way he identified as being the best for them. He was always friendly, helpful and very encouraging, and all of his students respected him greatly. I owe so much to him, especially in our classes where he taught us the fundamentals—harmony, counterpoint, ear training, orchestration, analysis, etc., as well as how to invent our own musical material and manipulate it for the purposes of composing. I had a weekly private lesson for an hour with him, where he would take my score, and after looking at it and making a few comments about instrumentation, chord spelling, notation, tempo, etc., place it up on his piano and play through it, stopping to tell me what he liked and what he thought didn't work, and showing me how to make something better by playing through possible solutions. When I left my lesson, I always felt energized to continue my work and come back to him with something even better the following week.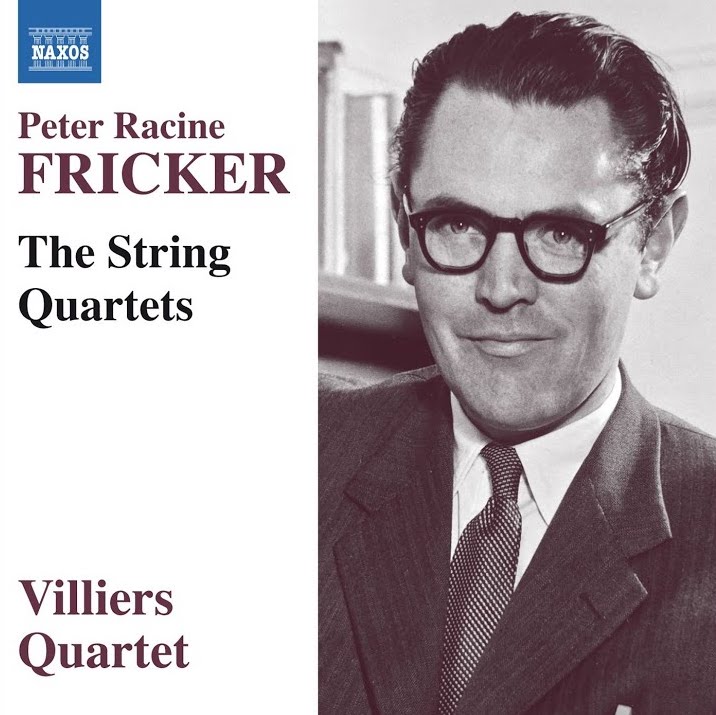 He would also show me his scores if I asked what he was working on and tell me a little about how he made his pieces. I remember he was working on what became his Third String Quartet which he gave me some insight into, discussing the material he was using and the compositional interests and influences that he had at the time. He was dedicating the quartet to Elliott Carter, who had recently visited our class. In Fricker's quartet, as in much of his music, he was concerned with creating his piece through the manipulation of intervallic material, which is a technique not unlike the work of Carter, though Fricker was more thematically oriented as a composer than Carter. I do think his approach gave his music its particular quality that made it unique.
During my last term at UCSB-CCS, I wrote my final dissertation for my BA degree under his supervision, "Serialized Rhythmic Procedures," which he took a great interest in. As an example of his interest in my research, I remember one of my sources was Karlheinz Stockhausen's 1957 essay "How Time Passes," which had been published in Die Reihe, the German theoretical journal of the Darmstadt composers. Fricker read the essay in English translation with me, and we discussed many of its ideas as well as trying to decipher some of the more esoteric elements it contained. I managed to finish the paper, and I still have it to this day with Fricker's handwritten complimentary comments and grade of A-plus.
Over the 2½ years I studied with Fricker, I like to think we became friends. He would often stop and chat with me if we passed in a corridor, and always asked me what I was listening to and what scores I was carrying around. On one of these occasions near the end of my time at UCSB, I was carrying some scores of pieces by Alexander Goehr, who I had learned about from Thea Musgrave. Fricker asked me what I thought of his music, and I told him I liked it very much and thought it had a special idiosyncratic sound I wanted to learn more about. Knowing I was about to graduate and that I wanted to keep studying, Fricker suggested I go to England and study with Goehr, who was a friend of his, and he offered to write to him on my behalf, to which I readily agreed. Indeed, this one casual chat of a couple of minutes would change my life forever.
And we did become friends. After I had moved to Cambridge and was studying with Sandy Goehr, I would meet Fricker in London into the early 1980s when he would come from California, and we would have a meal or coffee together. I remember he invited me to the premiere of his Laudi Concertati for Organ and Orchestra, Op. 80, for the BBC Symphony Orchestra and organist Gillian Weir, his longtime friend, at the Royal Festival Hall. I went to the dress rehearsal with him, and sat with him during the performance, and we had dinner with Gillian afterwards. He was always very generous to me and provided introductions to conductors and performers when we met for concerts. Unfortunately, I didn't see him again after I moved to Ireland in 1983, and was very much saddened when I learned of his death from cancer in 1990 at age 69, when I saw his obituary in the Guardian.
After Fricker's death, his music largely disappeared from concert halls until the Villiers Quartet took up his complete string quartets and released their excellent CD of them in 2017. Since then, further recordings of his music have been re-released, perhaps most notably The Vision of Judgement, which was written for the 1958 Leeds Triennial Festival, paired with his Symphony No. 5, from 1976. Many of his works may be heard on YouTube, making it is easy to get a sense of this remarkable composer. There is much to admire in Fricker's music, and I will always be grateful to him for teaching me the fundamentals of composition and for sending me on a path that I couldn't have dreamed of before I knew him.
Jack Van Zandt (b. 1954) is a Grammy-winning composer of music for concerts, streaming platforms, TV, and film, based in Los Angeles and Ireland. He studied composition with Peter Racine Fricker and Thea Musgrave at the University of California Santa Barbara College of Creative Studies, with Peter Maxwell Davies at the Dartington Summer School, and with Alexander Goehr at Cambridge University, where he was also Goehr's musical and teaching assistant from 1978 to 1985. He has taught and lectured at several universities, and is a concert producer in Los Angeles and frequently published writer. His book co-written with Goehr, Composing a Life: Teachers, Mentors, and Models,will be published by Carcanet Press in the UK on 26 October 2023. His music is published by Composers Edition.