The early years of William Sterndale Bennett
On a recent visit to the city of Sheffield – the city of Steel – my attention was struck by an impressive monument in the Cathedral commemorating Sir William Sterndale Bennett which led to some interesting local research…
According to the Sheffield City Archives and Local Studies Library, the birthplace of William Sterndale Bennett was at the rear of Norfolk Street on 13 April 1816. Later this building became part of Richard Richardson's Cornwall Works. Established in 1796, this firm which used the trademarks Cornwall Silver and Crown Silver. Today this site is completely changed.
William Sterndale Bennett was the third child and only son of Robert Bennett, a conductor, composer and piano teacher as well as organist at Sheffield parish church – now the Cathedral Church of St Peter and St Paul. He named his son after his friend William Sterndale, some of whose poems the elder Bennett had set to music.
But this small provincial world was about to be shattered: His mother, Elizabeth died in 1818, aged just 27, and his father died a year later. With both his parents dead before his third birthday William was an orphan. Fate played a cruel hand on this young child yet one which was also to pave the way to opportunities which were to shape his future life.
The young William was brought up in Cambridge by his paternal grandfather, John Bennett. He was a professional bass and sang as a lay clerk in the choirs of King's, St John's and Trinity colleges. William too became a chorister and by the age of 10 was accepted into the Royal Academy of Music which had only been founded four years earlier. All fees were waived as the examiners were so impressed by his talent. Here he studied violin, piano and composition and the foundations were laid for his future life and career in music.
Bennett was to have a significant influence on English music as a composer and teacher as well as a promoter of standards of musical education. But he was also a musical conservative finding more encouragement from his German musical circles where he developed close friendships with both Felix Mendelssohn and Robert Schumann.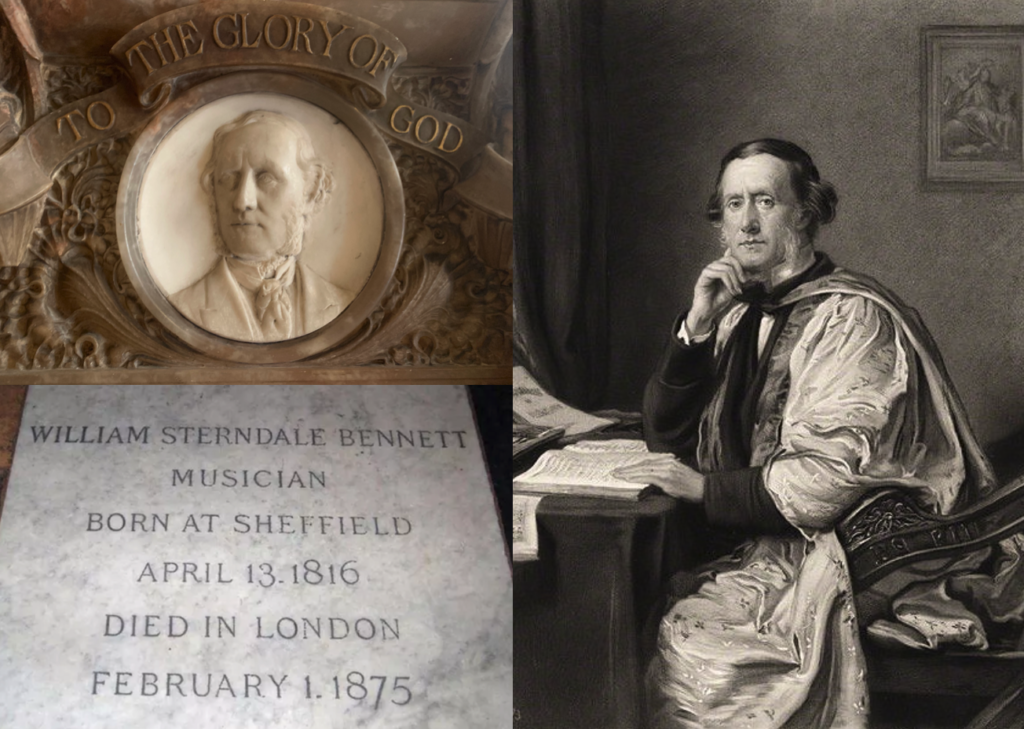 Nevertheless, Sterndale Bennett must be considered one of the most distinguished British musical figures of the early Victorian era becoming Principal of the RAM in 1866. Five years later he was knighted and after his death in London in 1875 he was buried in Westminster Abbey.
'There is no doubt: the only purpose of a good teacher is to see his student becoming better than him. If this does not occur, he has wasted his gift' WSB
Nicholas Keyworth