Congratulations to viola player Mark Chivers for organising a wonderful festival celebrating composer Doreen Carwithen's centenary.
This took place between 30 June and 3 July in the extremely attractive village of Haddenham where she was born. 
I was very pleased to see the new blue plaque and a beautifully laid out exhibition on her life and work – see picture below.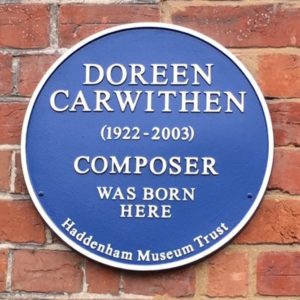 It was also great to hear Dad's quartet In Retrospect and a wide range of music by Carwithen and her contemporaries in the opening concert with Mark Chivers and his colleagues in the Masquerade Quartet at St Mary's Church. 
The atmosphere, the catering and the venues were all so inviting. I only wish I could have been to all the other concerts and events listed here.
Review by Anna Joubert