Readers will by now be aware that conductor David Lloyd-Jones died on 8 June. Other obituaries have already provided a detailed account of David's professional career, most adding 'after a short illness', but David had been in declining health since before the start of the pandemic, not helped by a complete loss of his sense of taste. He had never fully recovered from the death some six years earlier of his devoted wife Carol, who had acted as his personal assistant throughout their life together. It was a sad end to a life lived to the full, and mostly at full volume. The decline in his physical health during the final few weeks had been dramatic but his mind remained sharp. He continued to express moderate but strongly-held opinions across a range of subjects and, prior to the pandemic, a meeting with him was never dull, never predictable.
Although born and raised in London, which remained his base throughout his life, David was proud of his family's Welsh roots in a remote area of Ceredigion. His father had pursued a distinguished legal career, settling in London on his appointment as a High Court Judge, but wartime evacuation with his mother and sister took David back to the family homeland.
Although David fondly recalled his youthful attendance at major London concerts, there was no significant musical tradition in the family and, on going up to Magdalen College, Oxford, he chose to study German and Russian. But while at Oxford, he established a college orchestra, with fellow student Dudley Moore as its leader. And when, after graduation, he faced the prospect of military service, he opted to train as a Russian linguist, arguing that the improved language skills thus acquired would assist him in negotiations with Russian record companies, publishers and others in pursuing his lifelong passion for Russian music. The strong Russian threads of his early career, both as a conductor and his parallel work as a musical editor, have to a significant extent been obscured by his more recent close association with British composers, but Tchaikovsky remained the composer whose music he most admired, along with (less predictably) that of Verdi. Gennady Rozhdestvensky and, to a lesser extent, Vladimir Ashkenazy became close friends, but when Rozhdestvensky came to publish his autobiography, he rejected David's offer of a photograph for the volume in favour of one he claimed to have obtained from the KGB.
Another phase of David's early career not now widely remembered was in BBC studio recordings of operas between 1965 and 1968. Following the launch in 1964 of BBC2, the broadcaster was keen to use this extra capacity to promote the arts, but the technology and facilities of the 1960s presented difficulties in recording operas, usually resolved by having the orchestra in a separate studio from the singers. This required the deployment of two conductors, one in the orchestral studio and an associate conductor to provide the liaison between the orchestral conductor and the singers. The presence of the associate conductor was usually not apparent to the TV audience although David can be seen conducting among the ship's crew in the 1966 screening of Billy Budd. In all such productions, David's first conductor was Charles Mackerras, who became another life-long friend.
As the technology improved, the need for two conductors declined and over the following seven years David assumed the role of sole conductor in a further 10 BBC opera productions. Perhaps significantly, these included two by Verdi and no less than three by Gilbert and Sullivan, He had more than a passing affection for the latter's work, having completed a critical edition of The Gondoliers in 1984 (the first critical edition of any Gilbert & Sullivan opera) and taking over the Chandos project to record Sullivan's opera Ivanhoe following Richard Hickox's untimely death in 2008.
His work for the BBC opened the door to what David would disparagingly refer to as 'my time as a Civil Servant', technically being employed by the Arts Council to establish Opera North. His achievement led to an appearance on Desert Island Discs and an entry in Who's Who. But this was only the most public demonstration of his consummate skills as an administrator. He served for many years first as a trustee and later as Chairman of the Delius Trust, and also for some years as a trustee of the Royal Philharmonic Society, where he was instrumental in guiding the Society's archive into the hands of the British Library.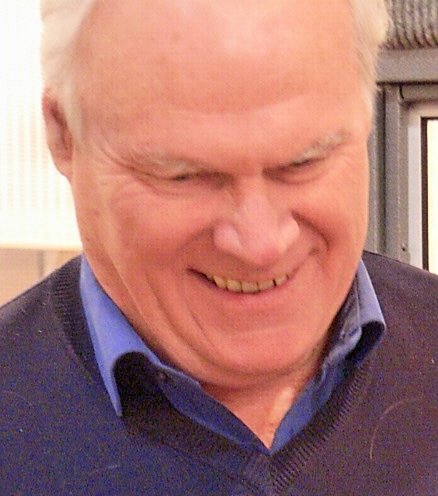 While the formation of Opera North was arguably his most notable achievement, his catalogue of over 100 CD recordings, many for Naxos, is likely to become his most memorable legacy. Many of his recordings are of obscure works, projects he accepted for little more than expenses and the pleasure of resurfacing an all-but-forgotten work. I wonder how many readers will have heard his recordings of the d'Erlanger and Cliffe Violin Concertos, his extensive set of recordings (mainly for Naxos) of works by Sir Arthur Bliss, or of the songs of Australian bass-baritone Peter Dawson. When David was commissioned to record the Bax cycle of seven symphonies for Naxos, he was concerned that the project might be cancelled if sales of the early recordings did not meet the record company's expectations. As a safeguard, he held back Tintagel to become the filler on the final CD, knowing this to be the one track that Klaus Heymann, owner of Naxos, was determined to see recorded.
David was punctilious about time-keeping. I could relax in his company in the knowledge that he would never allow me to be late for a subsequent appointment. He once told me that his first task when embarking on the recording of a new CD was to agree with the record producer which of them was to assume responsibility for determining sufficient progress through each session to ensure that the recording was completed within the allotted time. I had seen this for myself some years earlier at the Dutton recording of the Elgar Piano Concerto CD which was gradually slipping behind schedule. With less than 30 minutes of the final session remaining, recording of the final track – Anthony Collins' Elegy in memory of Edward Elgar – had not begun and consideration was given to dropping it from the CD. But David took the orchestra through twouninterrupted performances of the 10-minute work, finishing the final session with less than a minute to spare, to produce what is arguably the most interesting track on the CD.
Despite his demonstrative personality and zest for life, however, David always seemed most at home as a music editor, preparing scholarly editions of works by a range of composers and providing Opera North with English libretti for several Russian operas. He was the General Editor of OUP's William Walton Edition, and had most recently completed the first critical edition of Vaughan Williams' opera Sir John in Love. He edited three volumes of the Elgar Complete Edition, in the process rediscovering four 'lost' works. Not content with his work as an editor, and after protracted but unsuccessful negotiations with Naxos, David persuaded Dutton to allow him to conduct the BBC Concert Orchestra in a CD covering all but one work from the volume, resulting in an appearance on Radio 4's Today programme.
David took a delight in minor eccentricities. He claimed never to have heard a scrap of music by The Beatles, a near impossibility in the age of Muzak, yet remained tolerant of the percussionist who owned and occasionally lived in the penthouse flat above his own, a drummer by the name of Ringo Starr. He admitted to having met and exchanged pleasantries with Ringo in the lift, but presumably not on musical subjects. And in one of my earliest phone calls with him, he suddenly asked me to hold the line. A caller at the door, I thought, but he returned after a few minutes to reveal that it was now noon, at which point it was his daily duty to serve pre-lunch drinks in the Lloyd-Jones household.
His country cottage near Petworth, set among fields, allowed him to indulge in rural pursuits, and in particular his passion for cultivating roses. When we visited him there, he suggested we look at a row of tall trees facing the cottage, certainly impressive but their specific relevance unclear. 'Let's look again later,' he commanded, which we naturally did. Now, the sun's setting rays picked out streaks of predominantly orange roses stretching some thirty feet from the ground, shining out from the monotony of their surroundings – just like David.
Written by John Norris
Session photographs by Lewis Foreman
See also Obituary: David Lloyd-Jones