The news that internationally renowned British composer, Sir Arnold Bax, is to be officially recognised in Scotland will be welcomed by BMS members and all classical music enthusiasts.
A bronze plaque unveiling ceremony, due to take place at the Morar Hotel, Inverness-shire, in April but postponed as a result of the coronavirus (Covid-19) outbreak, is the culmination of a year-long BMS-backed campaign, promoting the output of Bax.
Box is a notable British composer of distinctive music, including seven innovative symphonies, highly-descriptive tone poems, memorable songs, challenging solo instrumental pieces and atmospheric film scores.
Live performances of Bax works from BMS chairman, Dr Wendy Hiscocks (piano) and Coral Lancaster (cello) will be mark this auspicious event when it happens.
A passionate relationship with the spectacular Scottish landscape and seascape, coupled with an intense interest in Celticism, were inspirations behind many of Bax's inimitable works. It is apposite for these to be recognised at The Morar Hotel, where Bax spent more than a decade of winters (1928-1940) perfecting many works. 
The year-long campaign won strong support from many of classical music's eminent figures, including the Scottish-based composer, Sir James MacMillan who enthusiastically wrote: "Bax's music is evocative and powerfully impressionistic. A memorial plaque would be a significant cultural marker for the Morar Hotel and Scotland's tourism industry generally."
The submission was also endorsed by His Royal Highness Prince Charles who, understandably, couldn't get directly involved in the campaign, but revealed himself as a Bax listener. 
"The Prince of Wales is certainly supportive of British Music and has listened with pleasure to Bax's work", it was stated in a letter from Clarence House, London.
I was also delighted to hear from Neil Gregory, of the Historic Environment Scotland, that members of the final adjudication panel were so impressed that, during a refreshment break, they went straight on to You Tube for a first-hand taste of some of Bax's music "as they refreshed their cups and grabbed pastries. said Mr Gregory. "It was a super application."
The application also included supportive coverage from diverse sections of the Scottish media, ranging from the Western Highland local 'bible', The West Word, to the authoritative Aberdeen Press and Journal.
My own personal affinity with Bax first began with a BBC radio broadcast from that memorable duo, The Halle and Barbirolli. It was a performance of the serene Third Symphony, entirely written in Morar itself, which gave me an insatiable appetite for Bax and his ground-breaking, music.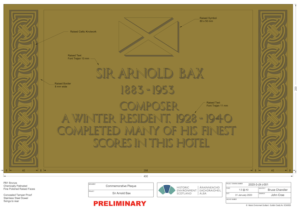 Subsequent visits to the Morar area over the last 30 years utterly convinced me there should be a permanent tribute to Bax and his outstanding music which was so inspired by those celebrated Scottish mountains and glens, seascapes and landscapes. 
Morar is a wild and remote place, but thanks to Arnold Bax it certainly will be forever close to my heart.
This bronze plaque (pictured) will be a permanent testament to the skills of an exceptional British composer and his music.
Feature written by Chris Bye