A British musical tradition broadcast to the world
Did you watch or listen to Carols from King's this year? If so, you are one of many millions of people around the world who have been tuning in for nearly a century to what has become a Christmas tradition and celebration of largely British music.
The Festival of Nine Lessons and Carols is held on Christmas Eve each year at the iconic King's College Chapel in Cambridge. For many people listening around the world on radio and online, this Festival marks the beginning of Christmas.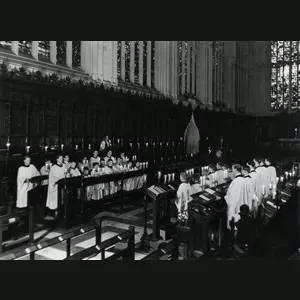 The Nine Lessons are the same every year and are are read from the 1611 Authorised King
James Version of the Bible by representatives of the college and of the City of Cambridge. Between these readings are Carols and Christmas music old and new sung by the distinguished Chapel choir who also lead the congregation in traditional Christmas hymns.
The Festival dates back to Christmas Eve 1918. It was planned by Eric Milner-White, who at the age of thirty-four had just been appointed Dean of King's and believed the Church of England needed more imaginative worship. The service was, in fact, based on one presented in a wooden shed in Truro back in 1880 – because the Cathedral as we know it had not yet been completed.
The first musical director was Arthur Henry Mann, Organist from 1876 to 1929 and, as today, the service began with Once in Royal David's City. But while the backbone of the service has remained virtually unchanged each successive year has seen new carols introduced by the organist (and therefore the de facto musical director) of the day including Boris Ord, Harold Darke, Sir David Willcocks and Sir Stephen Cleobury. 
The service was first broadcast in 1928 and has continued every year with the exception of 1930. During wartime, the name of King's could not be broadcast for security reasons. In 1932 the BBC began broadcasting the service on overseas programmes with the first televised version taking place in 1954.
Today, the service is broadcast live to millions of listeners worldwide on radio through the BBC World Service, on TV and many streaming channels. The format is also replicated across the globe with similar services held from the West Indies to the Far East and even in a tent on the foothills of Everest.
In 2022, under the musical direction of Daniel Hyde, a number of pieces by significant 20th century and contemporary British composers were featured. These included Peter Warlock, Judith Weir, Errollyn Wallen and Roger Quilter whose works were heard alongside traditional carols in arrangements by Sir David Willcocks, Christopher Robinson, John Rutter and Philip Ledger. 
A new work has been commissioned for the Festival every year since 1983. For 2022, a new setting of the text of the famous medieval carol Angelus ad Virginem was composed by Matthew Martin.
Written by Nicholas Keyworth