Some members might be aware that the British Music Society existed in various forms with branches around the world before the formation of the current society. 
Mr. Raju S M wrote to the BMS recently from Bangalore in India as follows:
'Many years ago, we found a copper plate in our agricultural land which has your institution name inscribed on it. On the front are the words:
PRESENTED TO O SCHMIDT ESQ. BY THE BANGALORE BRANCH OF THE BRITISH MUSIC SOCIETY IN COMMEMORATION OF THE BEETHOVEN CENTENARY 26TH MARCH 1927
On the reverse are the words:
OPENED BY HIS HIGHNESS MAHARAJA BAHADUR SHRI HARISINGH  BAHADUR, MAHARAJA OF JAMMU AND KASHMIR STATE IN MARCH 1927 IN THE FIRST YEAR…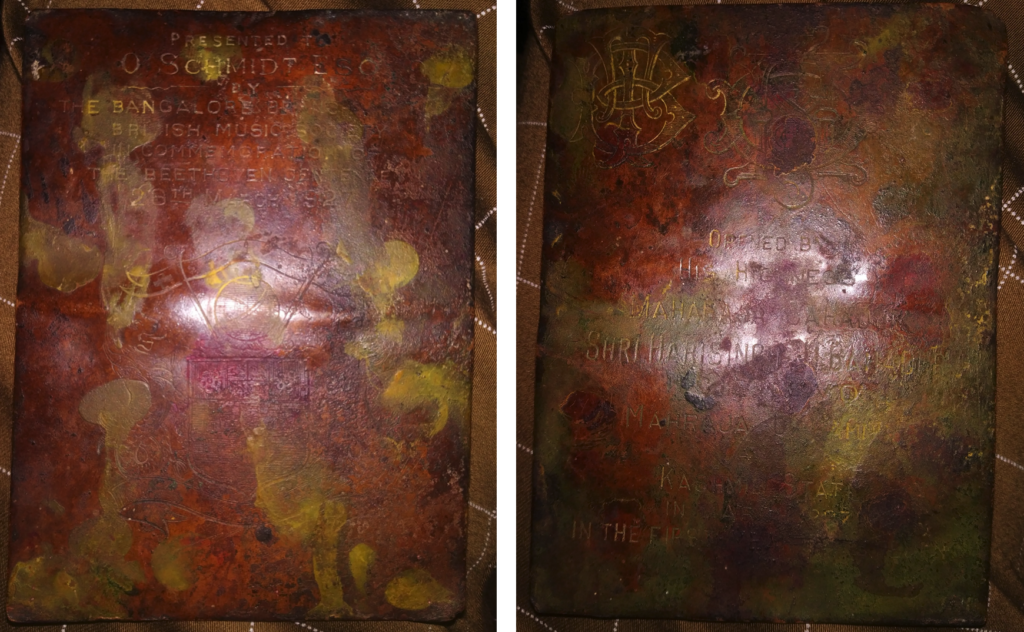 According to our long-standing treasurer, Stephen Trowell, the objectives of the original British Music Society were more general than the current Society. The earlier version of the BMS was formed in 1919 and operated until 1933.
It seems there were various 'branches' around the world including this one in Bangalore and one in Melbourne, Australia which existed until quite recently. The British Music Society of York still exists as an offshoot of the original BMS which continues to stage recitals to this day.
We would be very interested to hear from members who have any information on this early history of the BMS.