A London Symphony (1920 version)
Lynn Arnold piano duet (primo)
Charles Matthews piano duet (secondo), organ
ALBION ALBCD046
Transcriptions from Truro
David Briggs organ
Rupert Marshall-Luck violin
ALBION ALBCD049
Both of the above CDs feature transcriptions by different musicians of Symphonies by Ralph Vaughan Williams.
The London Symphony was transcribed for piano duet in 1924 by Archibald Jacob, author of Musical Handwriting. The performance by Lynn Arnold and Charles Matthews is instantly appealing.
It comes across almost like a CT scan of the music, revealing structural details sometimes veiled by myriad orchestral colours. In the first two movements in particular, the impact of English folksong comes through strongly. In this performance, the inner soul of the music is well maintained, including the delicious harmonies of the second movement.
For me, the real highlight of the performance is the wonderfully energetic and incisive playing of the Scherzo. It could easily stand alone as a superb concert piece. A bonus on this CD are performances of the Prelude, Fugato e Finale by Elizabeth Maconchy with the duet performers reversed. The music is breathlessly crystalline and clean. Then, Gerald Finzi's charming Eclogue, with Charles Matthews moving to organ, in softly delicate chamber style is warmly captivating.
Organ is the dominant force in the second CD in the transcription by organist David Briggs of Vaughan Williams's Symphony No.5. Here to quote a line from a song by Joni Mitchell 'Something's lost and something's gained' in this arrangement.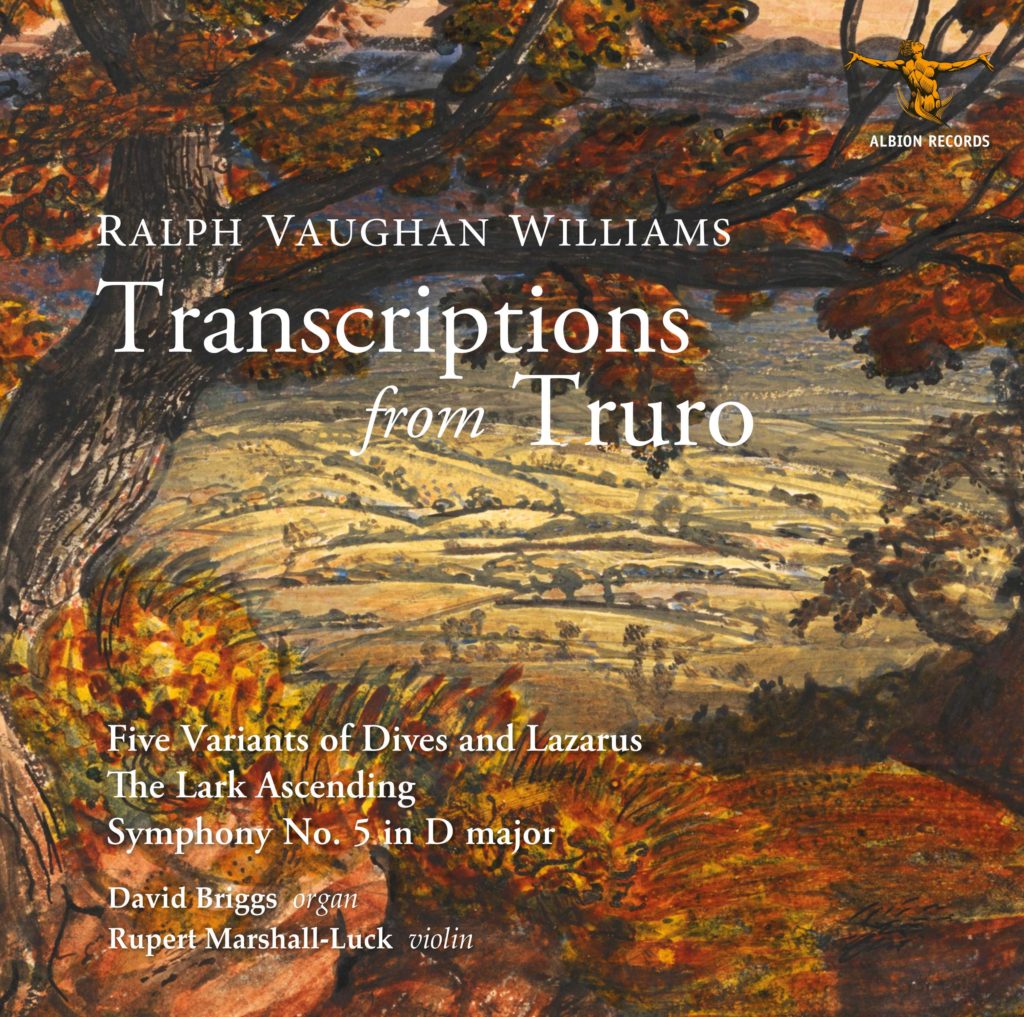 The orchestral version of the Symphony is remarkably detailed and delicately scored, but in the accompanying programme note Briggs writes, in this version, 'this music takes on an opulent, rich and colourful character', not perhaps Vaughan Williams, but a powerful and sometimes astonishing organ piece by Briggs himself.
The CD opens with Five Variants of Dives and Lazarus, based on a lovely melody that Vaughan Williams used in The Unquiet Grave, in Autumn from his Folk Songs of the Four Seasons. This is a moving performance, and it is followed by one of the composer's most celebrated works, The Lark Ascending.
Rupert Marshall-Luck is a forceful violin soloist. He gives a powerful performance, easily soaring above the sturdy organ sound. In the early days of the music, this combination of instruments was frequently performed.
If nothing else, when you compare it to the orchestral version, you realise what an inspired orchestral writer Vaughan Williams really was.
Review by Alan Cooper