210 musicians from 27 countries
 took part in the third New Talent British International Youth Music competition.
The winner in 2020 was violinist Ocimar Cassio Correa Filho from Brazil; he received the British Music Society £100 prize for the best performance of a British work
Brazilian prize winner, Ocimar Cassio Correa Filho performs four short pieces: I Meditation H.104 by Frank Bridge in the video above.
This online competition is organised BMS member Amy Yuan who reported:
"We were thrilled to welcome over 210 young musicians from 27 countries to the New Talent Competition this year. It has been such a joy to see and hear so many wonderful performances and new talent from around the world.
"It has been an empowering experience for us all at New Talent, to see so much passion and dedication towards music. It gives us so much confidence for the future."
"A virtual award ceremony was held on 18th August 2020 where competition results were announced and Candidates gathered as a community to celebrate their mutual love of music.
"We will be interviewing the Virtuoso Prize, British Music Society Prize and Gold Award winners starting from next week. Their interviews will be shared across our media platforms. Please follow us to learn more about these fantastic young musicians from around the world."
Prize winner Ocimar (pictured below) was born in São Paulo into a family of musicians. From 2006 he attended the São Paulo State Music School – EMESP and had lessons with Professor Liliana Chiriac. In 2016 he started studying in Vienna, at the Conservatory of Music with Professor Daniel Auner.
Since 2019 he has studied at the University of Music and Performing Arts Graz, with Professor Maighréad McCrann.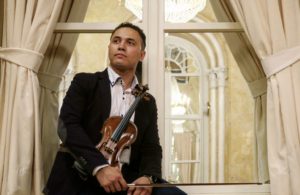 Ocimar has played with the São Paulo Symphony Orchestra, International Orchestra Institute Attergau (Project by Vienna Philharmonic), Vienna Jeunesse Orchestra (member) and the Kammerorchester der Bayerische Philharmonie.
In 2019 he won 1st Prize at the II Oliveira Durdevic International Chamber Music Competition in Belgrade. With a Sponsor Instrument Program he plays with a violin made by the German luthier Alfred Binner.